Best price
Micro-Needle Face & Body DERMA ROLLER 3 PIECE SET & EGF Repair Serum 30ml
Micro-Needle Face & Body DERMA ROLLER 3 PIECE SET & EGF Repair Serum 30ml
Last updated on September 21, 2021 8:24 pm
Disclosure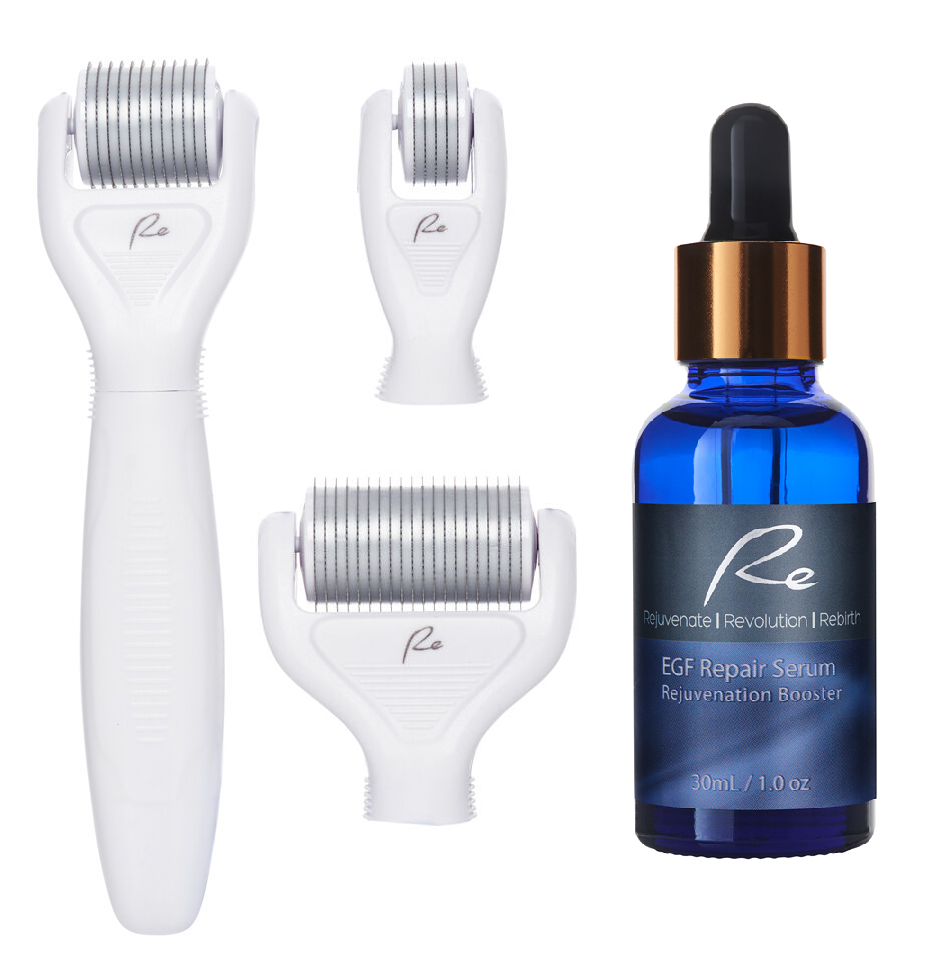 Micro Needle Face & Body Derma Roller Set + EGF Repair Serum 
Re Micro Needle Derma Rollers
Re Micro-Needle Derma Roller System is designed to provide highly effective, specialized skin care treatments at the comfort of your home. Derma Rolling is a non-invasive treatment offering improvement of various skin conditions. It uses microscopic needles to achieve visible rejuvenation for softer and smoother skin by stimulating collagen production. It helps to reduce appearance of aging, fine lines and wrinkles, uneven pigmentation, scaring, stretch marks, enlarged pores, breakout, capillaries. Micro-needling, increases penetration rate and effectiveness of skincare products. Only, up to 0.3% of skincare products are actually absorbed while applied traditionally, leaving 99.7% of your expensive moisturizers, serums, lotions or any other skin care products ineffective. Re Micro Needle Derma Rollers System improves skin color and texture for younger and healthier look of your skin on both face and body areas within just few weeks.
Treatment
Apply a thin layer of your skincare product. Gently, glide your roller over the area of skin you are focusing on, 10-15 passes with the roller in different directions. For best results, we recommend using our Re Pure Vitamin C Serum and Hyaluronic Acid serum as post treatment products designed for additional collagen production and hydration boost.
Item Details
Key Benefits:
Cell regeneration, upper derma renewal, anti-aging, anti-wrinkle, light and deep scares removal, pimples, blemish, pore refine treatment. Nutrient and skin care products absorption boost. Hyper pigmentation and stretch marks reduction. Hair re-growth.
Re Face & Body Derma Roller Set includes 3xDerma Roller:
–          Eyes – Derma Roller 300 needles – 0.5mm
–          Face – Derma Roller 720 needles – 1.0mm
–          Body – Derma Roller 1200 needles – 1.5mm
–          Stainless steel
 EGF Repair Serum 30ml
EGF REPAIR SERUM REJUVENATION BOOSTER
EGF Repair Serum is designed to provide rapid skin rejuvenation. Its advanced formula, enriched with EGF (Epidermal Growth factor) for cell regeneration is highly effective in fine lines and visible wrinkle reduction. It helps to smooth skin texture, fade out acne scars and pockmark. Additional BFGF (Basic Fibroblast Growth Factor) repairs skin damage caused by UV rays, ageing and external stress factors. Hyaluronic Acid promotes skin moisture, texture and elasticity improvement. EGF Repair Serum rejuvenate your skin quickly by boosting cell production for bright, smooth and youthful look.
INSTRUCTION FOR USE
Use in the morning and night alone or combining with your moisturizer after cleansing and toning your skin. For best results apply 5 drops all over face and neck. Massage gently until it's fully absorbed.
KEY BENEFITS
Repairs damaged skin
Fades out acne scars and pockmark
Promotes cell regeneration
Stimulates collagen production
Reduces fine lines and wrinkles
Hydrates and moisturizes skin
INGREDIENTS
Deionized Water, Hyaluronic acid, Centella Asiatica Extract, Portulaca Oleracea Extract, Soybean Ferment Extract, Butylene Glycol, EGF(Epidermal Growth Factor), Argireline, Folic Acid, BFGF (Basic-Fibroblast Growth Factor), Dipeptide-2, Palmitoyl Pentapeptide-3, Hydrolyzed Prunus Domestica, Yeast Extract, Hydrolyzed Beta-Glucan, Hexylene Glycol, Phenoxyethanol
STORAGE & EXPIRY
Keep serum in cool and dark place at room temperature
Use within 12 months from opening
External use only
About us:
Top Brands Pty Ltd, trading as Mybeatushop7 is the official distributor of luxury brands from the broad range of beauty products.
We sell only genuine and authentic items and stand behind each of the products we listing. Our customers' satisfaction is our first priority.
We offer only brand new products in full retail packaging, no testers and not unboxed as presented in retail stores.
Contact Us:
Contact us through eBay, We will aim to answer your emails within 24 hrs. (Closed Saturday, Sunday and Public Holidays)
We provide also customer service on the phone within trading hour: Monday – Friday, 9.00 am – 4.00 pm
Payment:
Please pay within 3 business days
We can offer combined Postage before payment is made, please contact us for a quote
We accept Paypal payment only.
Postage / Returns / Warranty
Postage
Orders are dispatched within 1-3 business days
We do not offer pickup facilities
We ship products via Australia Post
We can offer express shipping, please contact us for a quote
 Returns:
We offer 14 day returns if your item is faulty or damaged (which is very rare), we do not accept returns based on change of mind.
All returns should be authorised by us before being posted
Refund is only available if the item is unused, in a saleable condition and returned to us on the buyer cost.
 Warranty:
Proof of Purchase is required, please keep your invoice that was emailed to you upon completion of this sale.  ALL postage costs to and from the supplier or ourselves are for your cost.
Related Products
Specification:
Micro-Needle Face & Body DERMA ROLLER 3 PIECE SET & EGF Repair Serum 30ml
| | |
| --- | --- |
| Size | Regular |
| Formulation | Serum |
| Sun Protection Factor (SPF) | SPF 0 |
| MPN | Does Not Apply |
| Department | Unisex |
| Body Area | Scalp, Arms, Body, Chest, Decollete, Eyes, Face, Feet, Full Body, Hands, Head |
| Custom Bundle | Yes |
| Volume | 30 ml |
| Main Purpose | Collagen Production, Acne, Age-Defying, Age Spots, Blemishes, Dark Spots, Discolouration, Early Signs of Ageing, Melasma/Hyperpigmentation, Regenerating, Restorative, Skin Firming, Skin Tightening, Stretch Marks, Tone, Wrinkles |
| Ingredients | Glycerin, Hyaluronic Acid, Water |
| Active Ingredients | Cell Energy Peptide, Amino Acids, EGF, Hyaluronic Acid |
| Product Line | Regarding Skin Microneedling Treatments |
| Set Includes | Boost Facial Serum, Derma Roller Face & Body Set, Day & Night Treatment, Derma Roller, Hyaluronic Acid, Microneedle, Pore Minimising, Rejuvenation, Skin Repair, Wrinkle Minimiser, Wrinkle Reducer, Wrinkle Smoother |
| Brand | Re |
| Period After Opening (PAO) | 12M |
| UVA Protection | UVA 0 |
| Type | Derma Roller |
| Bundle Description | Micro-Needle Face & Body DERMA ROLLER 3 PIECE SET & EGF Repair Serum 30ml |
| Features | 3 Interchangeable Heads, Stainless Steel, Face & Body Derma Roller Set, Alcohol-Free, Ammonia-Free, Animal Cruelty-Free, Colourant-Free |
| Skin Type | All Skin Types |
| Expiry Date | 12M |
| UPC | Does not apply |
24 reviews for
Micro-Needle Face & Body DERMA ROLLER 3 PIECE SET & EGF Repair Serum 30ml